Dates: Jun 11, 2016 - Jun 17, 2016 and Aug 6, 2016 - Aug 12, 2016
---
In 1877, Leslie's Magazine printed a now-famous article titled 'Out West on the Overland Train' describing passage over the recently completed Overland Route of the Union Pacific Railroad to San Francisco via the daylight crossing of the Sierra Nevada Mountains. Upon arrival in the Bay Area, the party continued onto the fabled Palace Hotel, a wonder of the age, for a stay in San Francisco. Interestingly, this vivid article was re-issued as a book in 1967 during the Centenary celebration of the Transcontinental Railroad by Richard Reinhart, who traveled over the same route aboard the 'City of San Francisco', the remaining Overland Route train at that time.
It is with this prelude that we offer a one-time journey west, over the same historic Overland Route, from Salt Lake City to Northern California traveling through the same places that evoke the mystique of the Old West: The Overland Wagon Trail, Emigrant Gap, Donner Lake, Dutch Flat, Cape Horn, Gold Run, Blue Canyon, Hangtown and Sacramento are just some of the historically freighted places we pass through. And perhaps saving the best for last, we end up at San Francisco's fabulous Fisherman's Wharf. Not only is this holiday a visual feast but to travel West, we have a splendid private vista-dome Streamliner, our very own Great Western Limited, complete with Pullman sleeping cars with real beds and soft pillows, fine dining (all meals, wines & spirits while aboard are included in the fare) and all of the little touches like fresh flowers, elegant menus, an attentive staff and a professional tour manager to make our journey West a civilized passage. Beginning with the superb Little America Hotel in Salt Lake City followed by a two day stay at the wonderfully located Embassy Suites in the heart of California's Napa Valley and, of course, the Sheraton at Fisherman's Wharf, this is a relaxing and luxurious vacation. We have included such treats as a trip aboard the Napa Valley Wine Train as well as a visit to colorful Sausalito, overlooking the Golden Gate Bridge to round out this stylish holiday. Since the capacity of the Great Western Limited is restricted to only 48 lucky guests, prompt reservations on this one-time excursion are highly recommended.
Highlights
Overnight stay in Salt Lake City at the Four-Diamond rated Little America Hotel, one of our favorite hotels in the American West. Since we do not board our train until late evening on day two, for maximum convenience, we have arranged for our guests to occupy their luxury accommodations until late evening on day two. A Salt Lake City tour is also included as is breakfast and a special welcome dinner.
Travel from Salt Lake City to the San Francisco Bay Area aboard our own 1940's era Vintage Streamliner train, the 'Great Western Limited' with all meals, wines & spirits while aboard. We have our own chef and stewards and this is a civilized way to travel with fine dining, fresh flowers and elegant surroundings. All guests enjoy sleeping car accommodations with all rooms having in-room facilities. Our route takes us over the original Transcontinental Railroad, the storied 'Overland Route' past Donner Lake and through the majestic High Sierra in daylight.
Two night stay in the lovely Napa Valley at the Embassy Suites hotel in downtown Napa with deluxe accommodations and breakfast daily. Also included is a luncheon journey aboard the famed Napa Valley Wine Train that includes a winery visit and tasting.
Sightseeing tour to Sausalito with plenty of time to enjoy this picturesque town with its stunning view of San Francisco Bay and the Golden Gate Bridge.
Two night hotel stay in San Francisco at the well-located Sheraton at Fisherman's Wharf with plenty of free time to enjoy 'Everybody's Favorite City'. We have included a City Sightseeing Tour and special Farewell dinner.
Itinerary:
Day 1: Arrive Salt Lake City
Guests arrive in Salt Lake City and join us at the elegant Little America Hotel with the balance of the evening at leisure. The hotel is in the heart of downtown.
Day 2: The Great Western Limited - (B/D)
All morning to sleep in with a midday sightseeing tour of this lovely City with the afternoon at leisure with plenty of time for taking in the Mormon Temple and its fascinating museum. Tonight is our casual Welcome dinner at the Little America Hotel and since we do not depart until 10pm for the special train, our rooms are available for relaxing in until our 10pm departure. Upon boarding the train, we enjoy a second dessert as we roll west in great style over the Union Pacific Railroad. Tonight, comfortable beds with soft pillows await.
Day 3: The Napa Valley - (B/L)
Morning finds us passing through Reno and beginning our ascent of the Sierra Nevada Mountains with brunch served as we travel past Donner Lake. This is the storied route carved out of sheer rock by Chinese workers for the original Central Pacific Railroad and every mile is tinged with history of this epic achievement. Later today, we pass Sacramento and disembark in Martinez for the very short drive to Napa where luxury accommodations await at the Embassy Suites. Evening at leisure.
Day 4: The Napa Valley - (B/L/D)
We have left the morning free for you to explore quaint downtown Napa and at midday we board the famed Napa Valley Wine Train for a pretty ride through the Napa Valley with lunch en route in the elegant dining car before we stop for a winery tour, with tasting. We reboard the train and are back in Napa in late afternoon with a special dinner awaiting. Overnight at the Embassy Suites.
Day 5: Sausalito & San Francisco - (B)
Another magical day as we depart Napa and drive to San Francisco, stopping en route in enchanting Sausalito with time for lunch in this amazing setting. We arrive at the well located Sheraton at Fisherman's Wharf this afternoon with all evening free to enjoy 'Everybody's Favorite City'. Our hotel has one of the best location in town, a short walk from Fisherman's Wharf! We have intentionally left the evening free.
Day 6: San Francisco - (D)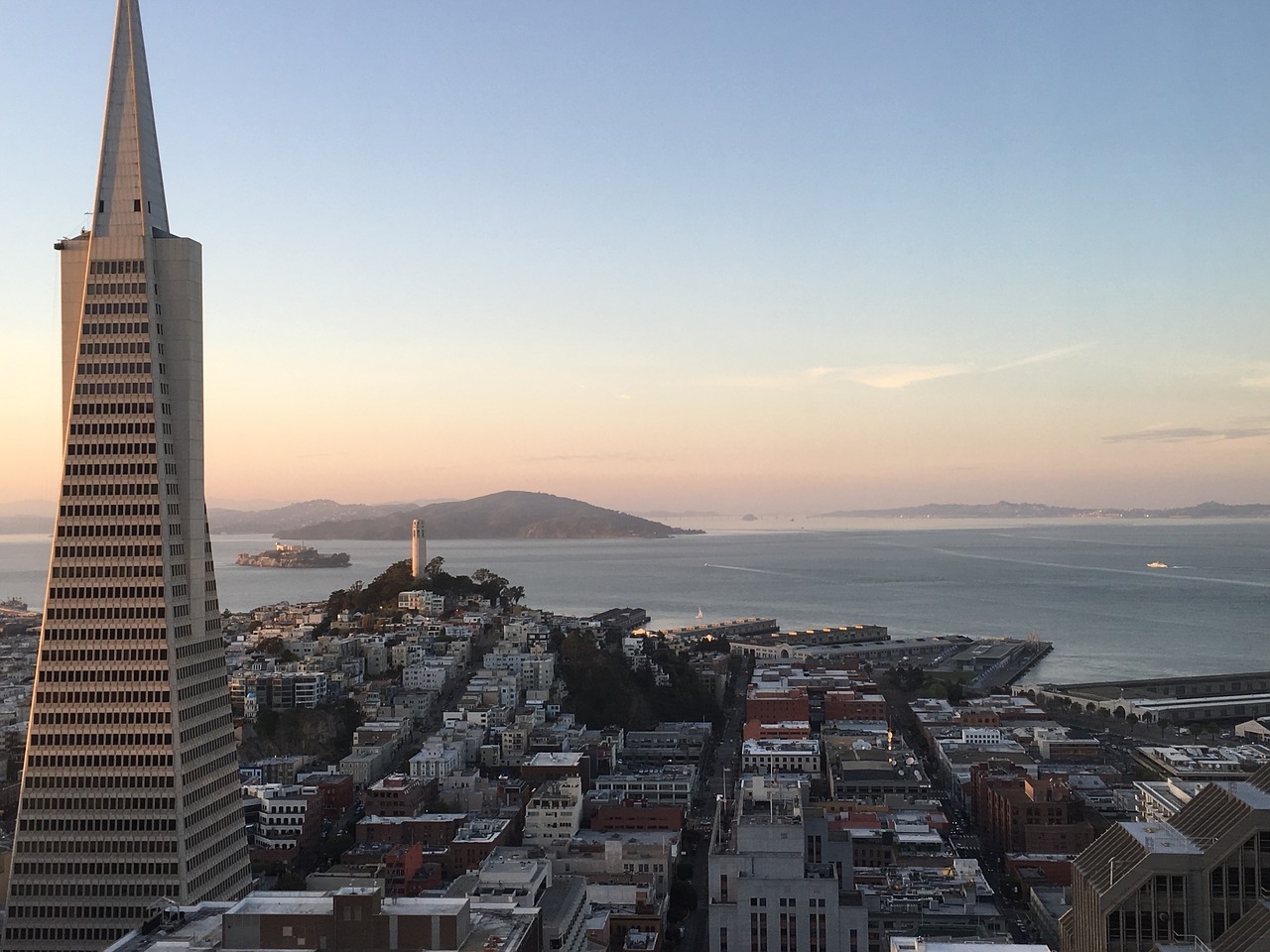 Our final full day to enjoy San Francisco and we have included a bay cruise today that passes under the Golden Gate Bridge, a great opportunity for photos. We have left the morning at leisure, with time to perhaps visit the Palace of Fine Arts, the new Museum of Modern Art or the nearby Marina district. Tonight is our special Farewell Dinner overlooking the Bay. A final night at the Sheraton.
Day 7: Homeward
Guests depart for home today by air or train or may extend their holiday, even taking in Southern California if they like.